Is it Truth?
My amazing sister and I used to regularly post on our foodie insta called foodieseestas. Unbeknownst to most people (and myself at the time), while I was posting all sorts of fun and delicious foods, I was in the depths of anorexia. I say this to make a point: not all insta (social media you name it etc.) famous people are not what they seem. Mind you, I was definitely not insta famous but the statement still stands. I presented myself as someone who freely ate all foods and felt fine about it. In reality, I was anxious about everything and posting the food was my way of making it known and justified. The one true part was that I was, in fact, a foodie but I was a foodie because I was obsessed with food--it was my body's way of telling my brain "FEED ME! I'M MALNOURISHED!"
I posted about various foods, but a lot of it was because I needed to receive some sort of affirmation that what I was eating was ok. I couldn't just eat something because I wanted it--I felt the need to tell people.
Then, when I came home in 2016 and started treatment for anorexia, I chose to stop posting. I realized that it was not helpful in any way. I did not need any gratification for feeding myself and listening to my body. I began to learn that eating and feeding myself what I want and need is a choice that is determined my own body. I do not need to compare what I want to anyone else because I am unique and awesome. And so are you.
All this to say, it's easy to look at someone on social media or even in person and easily see a picture-perfect painted image of who someone is. Their breakfast is always aesthetically pleasing and they always seem to literally "wake up like this". She has her whole life together!! (reality: she doesn't. no one does) Ya feel?
I know for me it's easy to think these thoughts and feel less than.
But, I don't always question those thoughts as I should. Because, truth bomb: not all of our thoughts are truth. Often, they are the exact opposite. Because, remember thoughts in your head are just exactly that...thoughts.
So, maybe you love following a certain person on insta or something, and when you look at their feed, you can't help but see their "perfection" and your "lack thereof"? (not truth)
BUT
plot twist...
they are not, in fact, perfect.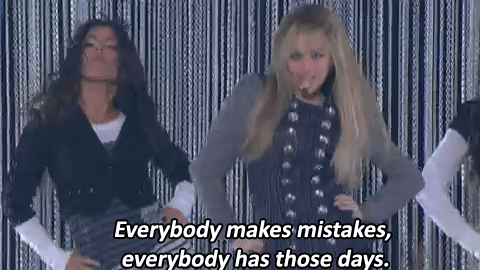 Hannah Montana was wiser than we thought.
Another example is Alexis Ren. She was an instagram star and was idolized for her body. Yet, she was struggling with anorexia and was severely underweight. She later came out and told her followers about her struggle and encouraged them to seek their own needs.
Here's a little idea:
I did this a couple months ago and still do when I need to is to do an "instagram clean out". Basically, I go through my list of following and unfollow people who cause me to feel poorly about myself or what I choose to do with my life/don't support me. This is not for a vain or selfish reason, but rather just for setting up boundaries. I don't want people to feel hurt that I'm not following them, but I also think they would completely understand the reasons why if they knew. You are not obligated to follow certain celebrities just because you like them or even certain insta stars simply because they seem cool. Who you see on your feed is up to you. Plus, we are on Instagram quite a bit anyway so why let it bring us down?
For me, I unfollowed people who post about diets, cheat days etc. because that is just not something that aligns with my values or is helpful for me. Instead, I replaced that negativity and lies with truth and encouragement from accounts such as ImmaEATthatReal Life RD .
Now when I look at my feed, I don't have to worry about what may come up on my stories that could be triggering or anxiety provoking because I have cleared that stuff out.
What about you? How can you clear out some of those lies? Whether they be in your own thoughts, on your feed, or all of the above, take some time to question those thoughts and look for ways that you can implement truth.
Because, you're golden darlin', and don't you forget it.